A Fully eDesigned Childcare Center At Your Fingertips
With our done-for-you digital interior edesign kits, it's now easier and more affordable than ever to design your dream childcare center.
A Fully eDesigned Childcare Center At Your Fingertips
With our done-for-you digital interior edesign kits, it's now easier and more affordable than ever to design your dream childcare center.
Does this sound like you?
"I don't have the time."
Between staffing, working with parents, watching my P&L and the list goes, I'm too busy running the operation of my childcare center to focus on the interior design of it.
"I don't have the budget."
I already have a tight budget and I've heard hiring an interior design company is really expensive.
"I don't know where
to begin."
Interior design is overwhelming to me! There are so many colors and products and styles and I am definitely not equipped for that project.
"I don't see the ROI."
Given my other expenses and priorities, I don't think spending money on making my school more beautiful and functional will yield actual financial returns that I need to maintain my revenue and profitability goals.
well, we hear you
Which is exactly why we developed this product so intentionally for you. It won't take up too much of your time, we have pre-designed various styles that you can choose (ahem, that means all the design work has already been done), our kits are affordable and give you full freedom and control to execute how you want. Oh, and what if we told you having a well-designed childcare center could garner more revenue to your bottom line? Well, it's true.
Choose your design
From traditional to modern, boho to bold, we have various styles to suit you and your market.
Select YOUR ROOMS
Choose our full eDesign package option or choose a la carte and get pre-designed rooms based on your needs.
Check your email
Receive a digital file with a moodboard, paint colors, 3D renders, floor plans, design tips, and a complete product list to design your school!
* PLEASE NOTE PACKAGES INCLUDE DIGITAL DOWNLOADS NOT PHYSICAL PRODUCTS *
Designing a Brighter Future
Why Intentional and Thoughtful Interior Design is Essential for Your School
Encourage creativity
Well-designed spaces can inspire creativity and imagination in children. More creativity boosts self esteem, fosters collaboration and yields a better learning experience.
Improve employee retention
A well-designed environment can have a positive impact on staff morale and job satisfaction. Staff happiness directly corelates to increased retention.
Boost your reputation
When your childcare center is attractive, contains a strong curriculum and a happy staff, the good news spreads! And pretty soon you will be running at full occupancy.
Increase revenue
Help attract new clients and retain existing ones. Parents are more likely to choose a daycare that appears clean, organized, and visually appealing.
What's Included
Full Design & Layout
Get complete moodboards and photorealistic renderings (designed by professional and experienced interior designers) of every space along with floor plans and suggested layouts to help visualize furniture and flow.
Complete Product List
Receive an excel spreadsheet that has all paint codes and the on average 100 curated products by our expert design team. From wallpaper, artwork, furniture, rugs and lighting, we have selected all of the products to give you a completely designed space.
Exclusive design time
IIncluded in the Full Package Kit are two hours of dedicated Zoom time with our team. Learn from the designers at Studio 790 Kids and utilize our expertise however you need!
Notes, Tips, & Suggestions
Get over 50 design tips and advice from our design team, specific to each room in the eDesign kit. Also, you will get a design editorial statement to fully encapsulate the aesthetic of your unique daycare.
Experience the Difference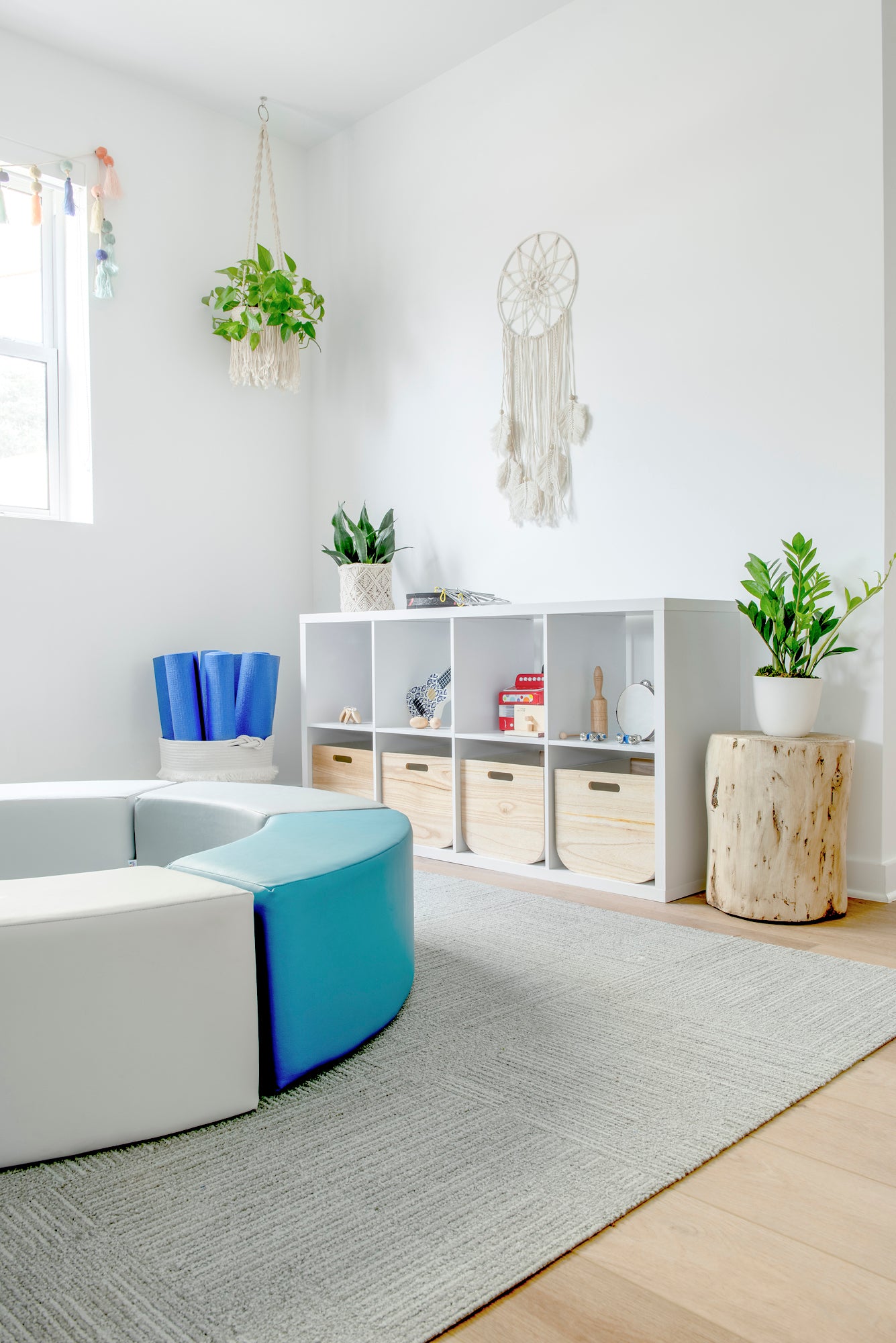 The benefits of a well-designed childcare center are profound!  By investing in interior design that prioritizes learning, safety, and employee satisfaction, childcare center owners embark on a journey to create an extraordinary environment, where the rewards of their efforts will be seen in the smiling faces of the little ones, the commitment of their staff, and the continued growth and success of their center. 
Today we unpack an important topic in the childcare industry - interior design.  Let's get down to why this matters, the impact it has on the kiddos and a reminder that YOU CAN DO THIS!
What childcare center owners say about us
from the makers of studio 790
It's For the Kids!
We are moms, we are professional interior designers and we believe wholeheartedly that a well-designed space for children will have a positive impact on their life. Having designed many childcare centers, a pediatric dentist, college spaces as well as dozens of residential kids spaces, we now want to empower you to do the same! Together let's create beautiful environments, increase revenue and bring more joy to the world by way of interior design.
Shop Our
eDesign Kits
We provide you with a curated interior design experience at a fraction of the cost and far less time. You ready?
Free download
Our Design Recipe for
the Best Lobby Ever!
First impressions are everything. Explore our 8 tried and true design tips to help refresh your lobby to make a lasting impression on the parents, your staff and the kiddos!